FCC Investigates Partridge Halftime Show
February 1, 2004
The Federal Communications Commission launched an investigation into the controversial Superbowl Halftime Show performed by the Partridge Family with guest appearances by the Brady Bunch.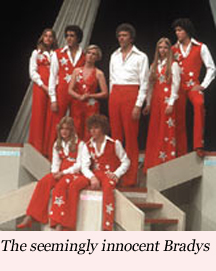 FCC Chairman Michael Powell expressed his outrage to CBS, insisting the television network should have known what would transpire during the show. The FCC probe will emcompass the entire halftime show, particularly the brief exposure during the end of the program when Mike Brady pulled Partridge mother, Shirley Jones out from behind her piano to reveal that she was wearing a pantsuit and not a more socially accepted garment like a skirt. Jones, obviously embarrassed by the faux pas, immediately covered her sleeved legs with trembling arms. The incident occurred during Brady's lyrics, "I'll get you in pants by the end of this song."
NFL Commissioner Paul Tagliabue promised that the league would change its policies to ensure halftime shows in the future are "of far more appropriate quality." Inside sources say next year's platform will be invited to the Andrews Sisters and the Kingston Trio, assuming both groups can be dug up and resurrected in time for next year's Bowl.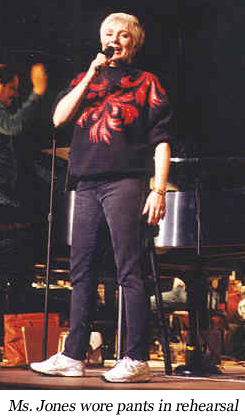 "I am outraged at what I saw. Like millions of Americans, my family and I gathered around the television for clean entertainment and commercial gluttony. Instead we were subject to soft core porn. Exposure of that nature is a deplorable stunt," said Powell.
The show was watched by approximately 99 million viewers in the US and many more millions worldwide, so Shirley Jones's pantsuit was quickly seen live, recorded by TiVo and downloaded on the internet around the world.
Mike Brady, meanwhile, blamed the incident on a wardrobe malfunction and assured the television audiences had seen Shirley Jones in pants many times before. Jones also expressed regret, saying she was caught up in the act and temporarily forgot she wasn't wearing a skirt.
U.S. Representative Fred Downton, R-MI, also expressed displeasure with the event. "I was appalled at the shameless portrayal of indecency. If I wanted to see such a crass and sexual act, I would've just watched the cheerleaders. When I watch the Superbowl I expect quality entertainment, not Shirley Jones in drag."
The investigation, if it proceeds on schedule, is planned to distract America from the Presidential election later this year.
---