BoSox Win: Jesus Saves
Oct. 28, 2004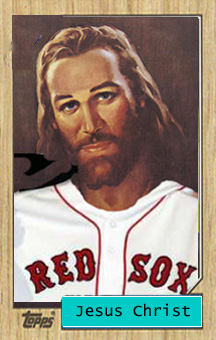 Jesus Christ returned to earth Wednesday night to pitch the last two innings of game four of this year's World Series as the Boston Red Sox beat the St. Louis Cardinals 3-0 to win their first championship in 86 years.
Red Sox fans celebrated their team's triumphant victory all across the streets of Boston, leaving Chicago Cub fans as the last cursed losers in the sport of baseball.
After going up 3-0 in the best of seven game series, Theo Epstein, Boston's general manager, in collaboration with owner John Henry, decided to take no chances. They called God, who in turn called on His son, Jesus H. Christ, to pull a few strings and perform a few miracles to make the BoSox victory possible. Christ was immediately bused down from Heaven on a three day pass, and joined the team early this morning. When asked what he planned to do on his extra two days off, Jesus replied, "I'm going to Disney world!"
The game, played at Busch Stadium in St. Louis, started out with a big bang. On just the fourth pitch of the game, Johnny Damon crushed what normally would have been a routine fly ball into center field. But luckily for Damon and the rest of his Sox team, all it took from Jesus was a puff in the direction of the outfield fences to send the ball clean out of the park.
Jesus struck again in the top of the third when Trot Nixon swung weakly on a 3-0 count, lining a double into left field. The hit scored two more insurance runs in a game that couldn't end quickly enough for Red Sox fans.
The score remained 3-0 all the way through seven innings, when Sox pitcher Keith Faulk gave up a lead off walk. Boston manager Terry Francona pulled the reliever and called the southpaw Christ out from the bullpen.
"I was a little nervous," says Jesus. "I didn't want to let my Dad down. Or the people of Boston, who've waited so long for this. But I knew I was okay because I had good stuff on my slider. And the umps were calling the corners, thank Dad."
As if by divine inspiration, Jesus struck out the next five batters and worked Albert Pujols down in the count. Pujols ended up hitting a soft dribbler back to the mound, which Jesus gloved and tossed underhand to first base. Millions of collective sighs were heard around the world as Red Sox fans across the globe experienced a kind of ennui that cannot be expressed in words. Records indicate that this is the first miracle Jesus has performed in over 2,000 years. And according to witnesses, also his greatest.
In the locker room after the game, Red Sox stars Manny Ramirez, Pedro Martinez and Johnny Damon placed all the credit with the Lord and Savoir.
"J-Dawg, he's my boy!" said Martinez, while shaking up a bottle of 86 year old champagne.
"We all want to thank Jesus for giving us this gift," added pitcher Kurt Schilling.
"It's nothing really," Jesus said at a press conference after the game. "Dad said, 'Where you wanna go, Son, Bagdad or Boston?' My Dad didn't raise no dummy. 'Send me to Beantown,' I said."
And the rest, as they say, is history.
---